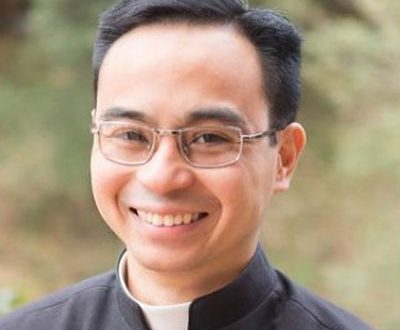 "Though our feelings come and go, God's love for us does not" –
C.S. Lewis, Mere Christianity (1952; Harper Collins: 2001) 132-133.
"Love is to want the best for the beloved. God loves me. Therefore, God wants the best for me"
.
This is real, this is me, I'm exactly where I'm supposed to be. The words of this song by Demi Lovato described the feeling I had during the retreat before my perpetual profession. It had been a long a difficult road until that moment and finally I would perpetually profess. 
Early signs of the vocation
The first time I ever thought about being a priest was when I was five years old. At that age, I remember being grossed out when I saw on television a man making out with a woman. It appalled me to think that, if I married when I grew up, I would have to kiss my wife. However, when I learned that priests didn't get married, I thought to myself, "When I grow up, I will be a priest!" Obviously, when I started liking girls two years later, I thought that, while being a priest was still a good idea, if I wanted to get married, I would just become a permanent deacon instead. 
However, God had already put the idea of priesthood in my head and he began to show me the gifts that he had given to me to prepare me for the priesthood. 
One of the greatest gifts God had given me was being knowledgeable about the faith. As I began preparing for first communion, I noticed that I had read the Bible more than the other kids in my catechism class and everyone thought I was going to be a priest just because I knew more about the faith than the rest. 
Moreover, through my parents, He began to develop my interior life. My mom taught me to pray every night before I went to bed. During my years in elementary school, my mom made us pray the Novena to the Sacred Heart before we went to school. As a family, we prayed the rosary almost every day. 
One special gift was that, since sixth grade, I was able to attend daily Mass. Since my middle school classes began earlier than that of my other siblings, my dad brought me to school on his way to work. However, since he went to daily Mass before going to work, I had to go to Mass. At first, I went to Mass, resigned and a little impatient, especially on the days that the priest decided to use the Eucharistic Prayer I. However, little by little, I began to appreciate the Mass more when I began to grow in my spiritual life more. 
Souls, love, and 
delicacy of conscience
Then, in my seventh grade year, my parents decided to homeschool me. It was during this time that God took advantage to deepen my interior life through three significant events. 
The first event was seeing the movie End of Days. The movie made a deep impact in me not so much for the scary scenes, but its use of part of the Bible that I had not read before. The movie used Revelation 20:20-21, which says that the devil will be released from his prison after a 1000 years and deceive the nations. When I got home, I looked up the verse and found that it did exist. Being close to the year 2000, I began to panic and fear for my own salvation. At the same time, it aroused a desire to save souls. It dawned on me that that there were worse sinners in world than I was and that they could suffer in Hell for all eternity. This realization motivated me to pray for the conversion of certain movie stars and pop singers. I naïvely thought of myself as a chosen soul that was holding back God the Father's wrath from being unleashed over all the earth. Later on, I realized that God was the first one who did not want to condemn people and I felt that I should help Him to prevent people from eternal condemnation. The gift of this apostolic zeal drove me to consider the priesthood even more as a possibility of being my vocation. 
Another situation that provoked my growth in the spiritual life was that I fell in love with a girl. At first, I simply wanted to save her soul since she dressed immodestly and I thought that all girls that dressed immodestly would go to hell. Afterward, when I found myself falling in love with her, I felt confused because I was seriously considering the priesthood. This predicament caused two diverse reactions in me. First, I prayed earnestly to God to take away that crush if my vocation was to become a priest. Simultaneously, I found myself looking for ways to impress her to draw her attention. At first, I could understand how this was possible. However, on a Catholic website, I found a definition of love that helped me understand what I was going through and helped me take this crush into a stepping stone for growing in holiness. I wanted to give the best for the girl I was in love with. If I loved God, I should obviously also give my best for God. Thus, I began wearing nice clothes to Mass, taking care of my teeth to receive communion well, and singing well for him in the choir. Then, it hit me. Love is to want the best for another person. God loves me. Therefore, God wants the best for me. Seeing the vocation to the priesthood in that light would help me later on in the most difficult moments of my vocation journey. 
The third incident that made me grow in my spiritual life also brought me to practice frequent confession. I was very mad at my sister for doing something. Since I could not punch my sister, I took out my anger on a folded up poster. I held a pen as though it were a knife and scribbled back and forth on the poster until part of it was torn. In the end, out of curiosity, I unfolded it and what I saw brought me to tears. It was a picture of Christ scourged and crowned with thorns. That is when I realized how much my sin cost Christ. From then on, I began to have a devotion to our Lord's Passion that brought me to a certain delicacy of conscience. 
However, in my ninth grade year, I began to suffer from scruples. Since I was a daily communicant, it began to be torture as I overanalyzed myself repeatedly on whether I had committed a mortal sin. I was distraught and thought about how difficult it would be for me to become a priest if I continued to have this problem of scrupulosity.  
Meeting 
and entering the Legion
During this turbulent time, in my junior year of high school, my mom's friend mentioned that her son was going to a vocational experience with the Legionaries of Christ. The first time I had heard of the Legion was from my Hungarian confessor, Fr. Anthony Jelinek. He had mentioned that he had met them in Rome and that the Brothers looked like priests.
I remembering looking up the Legion on the Internet and looked into the Apostolic School as a high school seminary. Yet, when I learned that they studied Latin and Greek from seventh grade, since I was in ninth grade, I thought that I would be behind intellectually and stopped looking into it. 
When my mom's friend found out that I was thinking about becoming a priest, she passed my contact information to Fr. Eamon Kelly. He invited me to go to a "retreat" at Oaklawn Academy in Edgerton, Wisconsin. After discerning a bit, I decided to go. This retreat was unlike any other vocational retreat I had gone to before. We had classes on Spanish and singing, a silent retreat day, hikes, and played several different sports. What caught my attention was how normal the Legionary fathers were and, at the same time, the intense love they had for Christ. After the retreat, which was experiencing what a Legionary candidate did without being one, I decided to try out joining the Legion the next year. 
In the summer of 2006, in Cheshire, Connecticut, I joined the candidacy with a do-or-die attitude. I was going to try to be a Legionary until God told me no. I went all out, especially in physical activity, which cost me the most. Nevertheless, I was very happy and I loved the family spirit that we had. When my spiritual director told me that I had been accepted to the novitiate, I was elated. 
My two years of novitiate were difficult for me, but it was also a time of spiritual growth. When I look back, I see now that my failures were small. Yet, I had made them a big deal back then. Through these little problems, God taught me to be close to my superiors and to live charity with my Brother Legionaries.  
Bad example and doubts
After my profession, I continued my humanistic studies in Cheshire. During that year, we received the news that the founder had a daughter. Since I had not known the founder personally, it did not affect me that much although it did hurt. What hurt me more was that fact that several Brothers from the community left the Legion during the year because of the news of the founder. 
Finishing that year of humanities, to my surprise, I was sent to Rome to start my philosophy. Although I had a hard time the first few months learning the languages, I strove to form myself academically and spiritually in those two years. Interiorly, I judged many Brothers harshly, because of their lack of fidelity to the norms. I did not realize in the moment how hurt many of them had been regarding the reactions to the news of the founder. However, at the end of philosophy, I began to question whether or not I had discerned my vocation well or not. This questioning gave rise to doubts on whether God was calling me to be a Legionary or not. Thus, I began my apostolic internship with an attitude of seriously discerning my vocation.  
My initial assignment was to be auxiliary to the vocational promoter of the apostolic school in Rionegro, Colombia. Afterward, I was transferred to Merida, Venezuela to help with the vocational promotion for the apostolic school there. During those 4 years of apostolic internship, I experienced some doubts regarding my vocation, but I had constantly discerned that God wanted me to remain in the Legion and become a Legionary priest.  
The final stretch to begin the new race
Returning to Rome to begin theology, the doubts returned and made me suffer for a year. With the help of my spiritual director, I was able to discern that these doubts did not come from God and took the decision to ask for my perpetual profession. The day of retreat before my perpetual profession, I received extreme consolation and it became one of the key graces to remind me that God had called me to be a Legionary priest.  
During the spiritual exercises of my third year of theology, I received the call in prayer to accept the diaconate. It was difficult to accept, because I thought I was not ready. However, what helped me was to understand that God did not need me to be ready. God only needed me to be ready enough to receive the grace. In my spiritual exercises for the preparation of diaconate, one of the most important graces I received was to understand that God loves me not so much for what I do, but for who I am. After the spiritual exercises, Br. Anthony Freeman passed away. It was the first time someone so close to me die unexpectedly. I had literally seen him the day before at dinner. Through this experience, I learned that I am not only a Legionary priest for those entrusted to me through my apostolate, but also especially for my Legionary and Regnum Christi family.  
Serving as a deacon these past few months has been a humbling experience for me. It does not cease to amaze me how God has chosen to continue to work through me in spite of my sinfulness. True, I continue to strive to do my best to love Him and others in spite of my failings. Yet, the blessings that God gives through and to me are out of proportion with my poor efforts. He is the protagonist; I am less than a useless servant. Nevertheless, His love drives me to strive for holiness and constantly to get up when I fall. It is through His fidelity and mercy that I am able to be faithful and merciful. It is through His love that I am able to love as He loves.  
###
Father
 Samuel David Tan, Legionary of Christ, was born to Severino and Minverva Tan in Waukegan, Illinois on August 29th, 1988. He is eldest of 6 children. In 2006, he entered the Legion of Christ and did his Novitiate and Humanistic studies in Cheshire, Connecticut. After completing a Bachelor's in Philosophy in Rome, he worked as a vocational promoter 
for the apostolic school 
for one year in Rionegro, Colombia and then three years in Mérida, Venezuela. After his return to Rome, he professed his perpetual vows on 
August 20th,
 2017. He recently graduated with a Bachelor's in Theology in Rome.
 He received the diaconate ordination on July 7th, 2018 in Spring, Texas.
 Currently, he is working as a vocational promoter for the apostolic school in Medellín, Columbia.