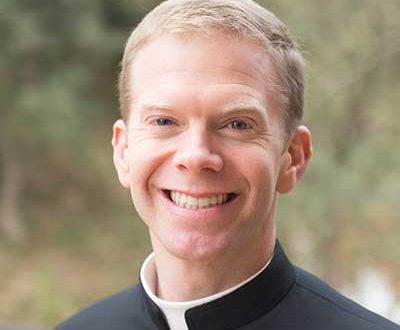 "That they all may be one." -Jn 17:21
Jared Michael Dennis Loehr, LC
I was born 1985 in Wichita Kansas to huge hearted, generous, tried and true parents in a loving Catholic family.  My mom Barbara and dad John come from families of 7 and 9 siblings. I was born the night of a huge tornado which if my mom was not having me she would've been at work which got completely leveled by the tornado.  So I tell her that I saved her life. Then she reminds me that I was born without a heartbeat so she underwent a C-section and she saved my life too! They gave me 4 other siblings Erin, Dennis, Sam, and Nick. There are also 36 first cousins. I grew up in Kansas City, Missouri and Overland Park, Kansas.  I attended 1 year of Catholic school and the rest public through college. My childhood after school adventures included building tree forts, making bike trails, digging huge holes, playing baseball, soccer, basketball, golf, water polo, water and snow skiing, wakeboarding, sailing, rock climbing, mountain biking, fishing, hiking, camping, shooting, singing, theatre and musicals, kickball, and softball.  I worked as a house sitter, pet sitter, and babysitter, baseball umpire, basketball scorekeeper, lawn care, chauffeur, cart room and bag supervisor, golf caddy, university anatomy lab teacher, nurse aide, and nurse. We vacationed to Colorado, California, Missouri, Louisiana, Alabama, Texas, Florida, New Mexico, Minnesota, Canada, Mexico, Ireland, England, Wales, France, and Italy.
Our most solid family traditions include evening meals, mass, trips, lake house adventures, catch phrase, ping pong, Halloween parties, cul-de-sac neighborhood get-togethers.
I always had a good core of friends usually mixed from sports teams, classes, and family.  My best friend growing up was Nick Morrissey whom I met in 2nd grade and even had as a roommate at the University of Kansas.  The craziest thing we did was to go "mudding" through a freshly developed field in a Ford Taurus.  That car had chunks of dirt falling off it ever since! I was also very close to my cousins Ben Buchanan and Kevin Costello.  The craziest thing Ben and I did was to rig our extended family's Christmas grab bag gifts with biker peel off tattoos and yard art writing that it was from Grandma's neighbors.   The craziest thing Kevin and I did was to jump off of a moving ski lift in Colorado into what we thought was a snow drift but was actually a block of ice. We went from X-games wannabes to face plant losers.
I really had it too good growing up.  My biggest worry was keeping my grades up, especially math and English. My toughest moment was when my little brother died of pneumonia.  Dennis, a month old, was sitting between my sister and I in the back seat of the car while we were driving. He asphyxiated and couldn't breathe.  I still think about how I would be different and how my family would be different if we had another brother. Each life adds so much to the lives of others.  I try to live a little extra each day for him since he couldn't. I took his name as my confirmation saint and know that he pulls many strings in Heaven for me.
A defining aspect of my childhood in a different way was the theatre.  My first and last role was oddly enough a cow. In first grade I was the cow for the Christmas play and I made some reference to the priesthood to which my mom's best friend said that I would become a priest.  My last cow role was in a Jack and the Beanstalk variation when a girl didn't want to be referred to as a cow so she ceded me the part. I ended up getting an award between all the high schools so apparently I am pretty good at being a cow!
I received two particular compliments that made an impactful and defined me in a way.  As a caddy, when I wasn't doing golf cart donuts on the driving range, a golf professional Liam Cahill happened upon me in the indoor parking lot.  As I went to park the cart there was a golf ball on the ground which the natural action would be to run over it and watch it ricochet around the room.   Instead I stopped picked up the ball and tossed it in a bucket. I didn't realize that my boss was watching and said, "You know you are really solid." That always stuck with me and I try to live up to that comment.  The second was as a nurse while I was working in the PACU (post anesthesia care unit), basically the recovery room. Another nurse said, "If you keep that attitude and demeanor you are going to do a lot of good."
The hardest moment in the hospital was when a mom arrived from an MRI expecting to find a tumor on her uterus.  Instead the doctor gave her the good news saying, "It's not a tumor, it's a baby!" She responded that she already had enough children so the doctor said that there were other places for that.  As I placed warm towels on her abdomen I realized that I might be the only person on earth to care for and acknowledge that little life, since the next hands that close may be to kill him. I still pray for that mom and child.  I chose nursing because it dealt with moments when people were coming into the world or going out and I felt honored to share in those special moments. There is no real monetary recompense when you help to welcome a baby or hold someone's hand during their last breath.
Regarding my conversion which continues every day.  The first time I knew that God existed was when I was on a family camping trip and was making the fire.  The sticks and leaves were wet as well as the old pack of matches. I made a simple 10 year old's prayer and said, "God, if you're there, could you help start this fire?"  In no time it lit up and from then on I just knew that he had my back.
I prayed personally when it was convenient but going to Church school seemed like a joke to me since there was no homework, no real consequences from the teacher, and minimal relevance to the rest of my life.  When I went to college at the University of Kansas I started in the biomedical engineering direction to design prosthetics for amputees. When I found out that the courses cost more, that there was much more math, and it would be 2 more years of studies I shifted to nursing to finish in 4 years.  Little did I know that God would add another 12 years of formation in the Legion! My biggest scholarship was one that my grandma found as a choir scholar and music organizer at the St Lawrence Catholic Campus Center. This meant that at a time when I probably wouldn't have gone to Mass I was up early and in front of the congregation.  It seems strange to think about but God found a way to even pay me to go to mass. Religion seemed like one hobby among many. When God seemed advantageous I did religious things but it really didn't rank over any other hobbies. I had no solid foundation or overarching identity to hold my life together for any greater meaning.
I lived in Oliver dorm which was known to party and so I would go out with all of the 7th floor.  The craziest thing I did was to storm the football field after KU won and tore down the goal post to throw into Potter's lake, 4 times!  The least intelligent thing I did was to punch through a window to prove that I could.
In the midst of dorm life, one night, a friend who lived across the hall from me, named Eric Wellhauser, went out on the window ledge and fell.  He landed on the grass but had massive internal bleeding. Students walking by thought he was inebriated because he didn't look physically hurt. Another nursing student from Ohio named Kim realized he was in bad shape and gave him CPR until an ambulance came.  He ended up dying on the way to the hospital. All I could think was how easily that could have happened to me. I ran through the town that night to try make sense of it all. With tears flowing I ended up at the Cross in front of the St Lawrence Center. I knelt in front of the cross and admitted to God that there is more to life than just fun and that maybe God knows more about life than I do.
From there I had space and openness to ask the big questions that I had either glazed over or not known how to ask.  Why is the Church, THE Church? Why does God matter? Why be actively pro-life? Is there more to learn about the faith than an 8th grader in confirmation class? Why is contraception wrong? How can I truly love women and all people for who they are?
That was a huge game changer when Christopher West came to give a talk about love.  My whole societal structure got rocked. He said, "The opposite of love is not hate, it is use."  I realized that I had be told by society to use women and others to get what we want. Everything in relationships changed when I realized I need to look out for other's good first and above mine.  This vision totally changed and gave meaning to my interactions with others. Then I could see how some Eves and Marys, Adams and Jesus' in my life who either lead me closer to themselves or closer to God.  I also had many incredible examples at college of prayer, friendship, and self knowledge. Diocesan priests who helped me tremendously were Fr Brian Schieber, Fr Jerry Spencer, Fr Vince Krische, Fr Tony Dittmer, and Fr Tom Tank.  Fr Zachary and Fr James from the SOLT. I met Fr Edward Hopkins from the Legionaries of Christ at a Big 12 Newman center conference. Sr Michaela and Sr Clara and all of the Apostles of the Interior Life helped me so much.
When I moved to go to nursing school at KUMed my goal was clear.  Graduate, enter the army nurse anesthetist program, and join the life-flight helicopter team. My days were filled with lectures, rotations, volunteering at the free health clinic, working in the hospital (especially in the burn unit), working out, daily mass and adoration,  and the team captain of the young men's Regnum Christi team. We had weekly encounters, retreats, youth camps, and an inner city Conquest boy's club at the request of Archbishop Joseph Naumann to work with the Hispanic youth. That group of guys really sustained and built my relationship with God.  However it completely disbanded and found it's purpose by 2 becoming Legionaries, 2 Regnum Christi Mission Corps, 1 full time for Mission Network in Atlanta, and one off to college.
A deep moment for me was during frequent adoration. I would look at all of the "coincidences" of experiences in the hospital and my whole life.  I frequently meditated on the line from Immaculee Ilibagiza who said, "I can only understand life when I look back on it with faith." One spring afternoon I noticed some Latino neighbors having an impromptu happy hour by their cars.  I figured it would be good to say "Hola," so I joined them. One by one they started giving me advice on what I should live for regarding success, women, and making my mark on the world. Those goals were everything I had been living for before Eric died.  Then a huge wave hit me like a challenge and it said, "If you want to be complete and who you were made to be, lay down everything, so that these men and everyone in your life will know true life, love, success, and happiness." This meant a career, family, free time, and my whole life.  So I went back to where I had my first challenge at the St Lawrence Center. At a Greek icon of the Theotokos Mary I asked her flat out as I had never done before if she wanted me to be her priest. I'd always imagined a beautiful wife, a bunch of kids, a yellow house with a white picket fence, and a huge St Bernard dog.  I never thought there was another option or way to go. When I placed my heart in her hands her face kinda sweetened up and I felt a warm nudge like, "Go get 'em." I said that whatever days I have left I will be your priest. I needed to see between the diocese, the Apostles of the Interior Life and the Legion of Christ. I tried to imagine where I could be closest to God and between the brothers, the fathers, Regnum Christi, the answer was in the Legion of Christ. I thought if I am going to get to heaven then these are the people I need to be around to help me get there.
I joined the day after I took the nursing license exam (NCLEX).  I went to Cheshire, Connecticut for the novitiate and humanities.  Then to the capital of the world in New York for philosophy where I continued to work with youth, doctors, donations, and in the choir.  My craziest moment was singing Ave Maria at Sargent Shriver's memorial mass at St Patrick's Cathedral surrounded by Kennedy's, Schwarzenegger's, Fulton Sheen, and tons of famous people, not to mention God.  Then I was sent to Houston for internship to serve at a preK 3-8th grade school.  I was a teacher, coach, mentor, disciplinarian, liturgy coordinator, Knights of the Altar supreme Knight director, development team member, Conquest camp and club director, and brother in the community!  What I most took away was the treasure of sharing the gift and testimony of my vocation. On a side note, I got the Texan triple baptism of getting a cowboy hat, riding a western style competition horse, and going skeet shooting!  Then I got to live in the Eternal City, the heart of the Church, and the See of the Vicar of Christ. Each day only gets more incredible and I realize how much God loves me through His son. It would be great to see my family more and to know my Legionary brothers and Regnum Christi members more.  In the end the only place where everything is perfect is Heaven. One special grace has been the marriage of my sister Erin to Wes May. Their children Bailey, Liam, and Charlotte are pure joys and true gifts to see the love of God. I even got to baptize Charlotte the day after I was ordained a deacon!  Witnessing two families coming together and the interplay of a spiritual family helps our hearts to love more than ever before. My brother Sam has the biggest and most patient heart. He is our mountain man living in the Rockies of Colorado and skis all over God's green, powder white, and double black diamonds of creation!  Nick the youngest always brings life and a smile to everyone. He is a fun loving accountant who travels between Chicago and Kansas City. I am spoiled by each of them and learn so much from them. Mom and Dad never cease to amaze me in their wisdom and the blessings they are and bring to others. I could never be grateful enough for them and all the love they planted in my heart in directing me toward God.
Legionary priests and brothers give me such a huge example and are a constant support in trying to be faithful to God and all he asks and entrusts to me.  Each day seems like I give God a dollar and he gives me 100! Please keep praying for me and giving thanks to God for this great adventure!
###
Fr. Jared Loehr, Legionary of Christ, was born to Barbara and John Loehr in Wichita, Kansas on June 8th, 1985. He is the eldest of 4 children. After graduating from Blue Valley Northwest in Overland Park, Kansas he received a bachelor's degree in Nursing from the University of Kansas. He entered the Legion of Christ in Cheshire, Connecticut and did Novitiate and Humanistic studies. After completing a bachelor's in Philosophy in Thornwood, New York, he served in Houston, Texas as a teacher, retreat director, and mentor. He recently graduated in Rome, Italy with a bachelor's degree in Theology where he guided pilgrimages, gave tours for the Vatican Museums, and served masses with Pope Francis. Pray for him as he prepares for priestly ordination May 4, 2019 in Rome.