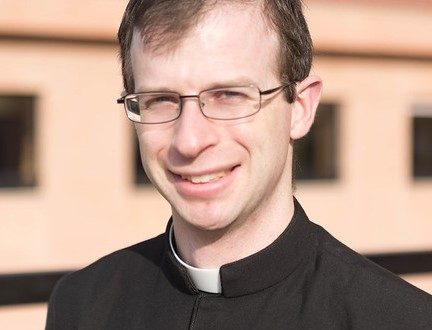 Front Lines of the Church
God has created me to do Him some definite service. He has committed some work to me which He has not committed to another. I have my mission. I may never know it in this life, but I shall be told it in the next. I am a link in a chain, a bond of connection between persons. He has not created me for naught. I shall do good; I shall do His work… Therefore, I will trust Him. –St. John Henry Newman
I used to be a militant atheist.  Yup.  At two or three years old I remember wanting to take over the Church—by "church" I meant my parish church in central New York state, where my family would go every Sunday for this weird thing called "Mass".  I didn't really understand it and it seemed somewhat boring.  So I decided that I when I was big I would take over the church and gather people together on Sundays to do something deep and meaningful: sing "Puff the Magic Dragon".  Thankfully, I "converted" soon after and before I was five I decided I wanted to be a priest. One of the major influences in my desire was my great-uncle, a priest of the diocese of Buffalo, who always encouraged me in that direction.
Now I am the oldest of seven kids… and the only boy.  I remember growing up longing for a brother, and every time my Mom was pregnant, I was sure that it was my little brother finally on his way.  Well, God sent me quite a few sisters, but no brother.
The summer of 1998 I was about to enter seventh grade and my parents wanted me to go to a summer camp.  Of the various possibilities I chose to go to a minor seminary run by the Legion of Christ in Center Harbor, New Hampshire.  I went with the idea of enjoying myself and heading home.  For me the priesthood lay in the far-off future.  But during the third week of the summer program one of the priests there gave us a talk on the Legionary priests as called to fight in the front line of the Church.  And in that moment I felt the "click"—the realization that God wanted me to give my life to him as a Legionary.  After high school at the minor seminary, I entered the novitiate and was sent to Ireland for two years.  Then I came back to the US for two years of humanities studies in Connecticut, followed by a bachelor's degree in philosophy in Rome.
After philosophy, we all do around three years of pastoral work—I did four.  Most of them I was a teacher for the seminarians studying humanities in Connecticut.  There I realized that God had given me many of the younger brothers I had wanted so much growing up—many more than in any natural family!  I continued to accompany younger seminarians through the rest of my time in preparation for the priesthood.  When I finished apostolic internship, back to Rome for a master's in philosophy and then bachelor's in theology.  It's been a long haul, but so worth it!
Without doubt one of my main anchors during these years has been the Eucharist: a place of refuge and strength.  I've learned to look for those moments of quiet peace with Our Lord and let him mold my heart according to his.  Sure, lots of times I don't feel like it.  I tell Jesus that I'm tired, fed up or whatever and that I'd rather be somewhere else but praying.  And I also say, "You know everything, but bless me in spite of me."  And he has.
###
Eric Gilhooly, L.C. was born on 12 August 1986 in Syracuse New York.  He was a member of ECyD and entered the apostolic school in New Hampshire in the summer of 1999.  He entered the novitiate, which he did in Ireland, on 14 September 2003 and professed his first vows in 2005.  From 2005 to 2007 he studied humanities in Cheshire, Connecticut and then began his bachelor's degree in philosophy in the Pontifical Atheneum Regina Apostolorum.  In 2009 he began his apostolic internship in the territorial secretariat of New York and then was a humanities professor for three years in Cheshire, where he made his perpetual profession on 3 September 2011.  He returned to Rome and, after completing his master's in philosophy, studied his bachelor's in theology.  He was ordained to the diaconate in Syracuse on 19 May 2018 and was sent to Bogotá, Colombia to begin his ministry working with ECyD.