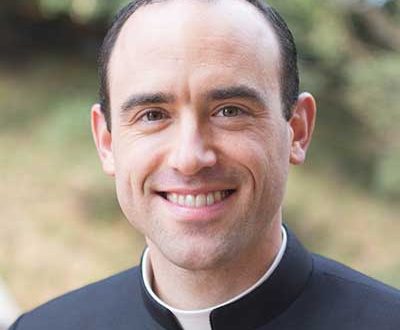 A Hundred Times More
The Gospel call to give up everything and follow Jesus is the path to fullness and joy. In consecrated life we live this call in a radical way to remind the world of heaven. Surrendering a family, things, and even our own will is certainly not easy, but when it´s seen as a means to union with God in this life and the next, it becomes a source of deep and lasting peace.
Seeds of Grace
When I was 9 years old I was baptized, along with my two brothers, in St. Margaret Mary parish in Slidell, Louisiana. A year ago, as my family watched the home video our Dad took of the occasion, I thought to myself: "Amazing. At that moment none of us could have fathomed that God would call all three of us to follow Christ in the priesthood" (though you'll have to wait for their stories later!). The seeds of our vocation had been planted long before, but on that day, soaked in the life-giving waters of baptism, they began to grow.
In high school, I ended up going on a retreat run by the youth group in our parish. I don't remember whether I signed up of my own accord or if I was "signed up" by my parents. In any case, after the day of my baptism, that first retreat stands out as another turning point in my life of faith. It was on that retreat where I made friends who would teach me – and more importantly show me – what it meant to have a relationship with Christ and be his disciple.
After the retreat, I started going to the youth group on the weekends. At first, the big draw for me wasn't so much the meetings themselves but rather the activities after the meetings that I enjoyed most. It wasn't anything extraordinary – we'd usually go hang out at someone's house, get some burgers or pizza, and just have an old-fashioned good time. And so, on those simple Saturday afternoons and evenings, the seeds of my vocation to the priesthood were growing, though I didn't realize it yet.
On my Own
After graduating from high school in the spring of 2002 – and a summer flipping burgers at McDonald's – my parents dropped me off for my first year on my own at the university of LSU in Baton Rouge. As they drove off, I remember blasting Handel's "Halleluia" chorus from the apartment where I was staying with two good friends. I was free! No one could tell me when to go to bed, when to get up, what to eat, and when it was…time to go to church.
Now that my parents would no longer be providing me a ride to Mass on Sundays, I had to choose whether or not to continue as before. If before I went to Mass because my parents brought me, now I would only go if I wanted to. Thanks be to God, the faith had become something vital for me, something not that I did, but lived – and so the choice to continue was easy. On top of that, the two friends I was living with were both good catholic men and a year ahead of me. For that reason, it was very easy for me to connect with the other Catholics on campus since they had already made friends the year before. It was clear that God's providential hand was guiding me every step of the way.
The summer after my first year of college, I was invited to be a counselor at a summer camp in North Carolina called camp "Chosatonga". That summer, I experienced what it meant to be a father and teacher. I was assigned a group of boys to take care of for a 3-week and a 5-week camp session. I had to help the younger boys through homesickness and talked to the older boys about relationships and purity. On multiple-day camping trips, I was the one responsible for their safety, fun, and conversations about God. It was such an awesome experience that I was planning to repeat it the following summer, but God had other plans.
Fast Track
My second year of college was better than the first. That year I started going to daily mass with around 20-30 other students on campus. That year I also learned about Regnum Christi from some of the other catholic men on campus. There was something different about them. They were the most solid, well-formed, and fun people I had ever met. With them, I'd arrive to the football stadium 4 hours before the LSU Tigers' football games in order to wait in line and get the best seats. With them, I'd also talk about what we thought God's will was for us in our life. It was the first time that "God's will" became something that I thought about. If it weren't for those friends, I wouldn't be writing this vocational testimony right now. They invited me to their Encounter with Christ one day – essentially a Gospel reflection which leads to action. They showed me the importance of making commitments and staying true to them in the life of faith, as well as the importance of accountability and community for living that life authentically. I wasn't yet a member of Regnum Christi, but those experiences sure made me start thinking about it seriously.
That year I also met an awesome Catholic girl who "checked off all the boxes" – she was a good Catholic, wanted a big family, she was a great cook, and she was beautiful… And she was also considering joining Regnum Christi. So if she was thinking about it, all the more reason for me to consider it too! I remember going to pray at a perpetual adoration chapel not far from campus to ask God what he wanted of my life. I had been invited to go on a silent retreat the next weekend on which, if I desired, I could become a member of Regnum Christi. So I got on my knees and started praying a rosary for that intention: "God, what do you want of me? I'll do whatever you want." As soon as I made the sign of the cross to end the rosary, a lady comes up from behind me, hands me a prayer card, and says "I'm praying for you." As she walked away I turned the prayer card around and noticed it was a "Prayer for Vocations" card with an image of Pope John Paul II on it. She had scribbled on the back: "Are you interested in a young men's spiritual exercises retreat this weekend?" alone with her phone number. It was the exact retreat I had just finished praying about! God has never sent me a fax or email, but that is as close as it's ever gotten for me.
Suffice to say, I became a Regnum Christi member that weekend and started receiving spiritual direction. About the same time, some of my friends began to suggest that I do the "candidacy" program in Cheshire, Connecticut with the Legionaries of Christ. I had no idea what the candidacy program was. They explained that it was a summer discernment course at the seminary of the Legionaries of Christ. A few of them had done it before and they discerned that it wasn't God's will for them. However, I had been getting my hopes up to return to camp Chosatonga for a second summer since I enjoyed the first one so much. Plus, the girl who "checked off all the boxes" was planning on going too, so we'd be able to see each other on the weekends. The plot thickened…
"No sign will be given" (Mt 12:39)
I only had a few months until summer and had to make a choice. The -toughest decisions to make aren't the ones between a good and a bad thing. Rather, the toughest decisions to make are between two good things. Which one did God want me to do? Should I repeat the amazing summer experience I had the year previously, at a great Catholic camp, with awesome faith-filled counselors and a beautiful, good Catholic girl? Or should I go and visit the seminary for a summer? I couldn't decide. I didn't know what God wanted.
It got to the point where I had the application for the summer candidacy program – with all the necessary documents – filled-out, sealed, and stamped in an envelope. But I also had the contract for the summer camp filled-out, sealed, and stamped in an envelope. I just had to decide which one to send in the mail. I needed someone to tell me what to do, so I scheduled a spiritual direction.
On the way to see my spiritual director, I stuck both envelops on the dashboard, near the window of the minivan I drove, and rolled down the window. I thought to myself: "Ok, if a gust of wind sucks out one of the -envelopes, I'll just send the other one in the mail – problem solved!" Unfortunately, as I pulled in to park for the spiritual direction, I saw that neither one of the envelopes had been "taken." Sadly, I brought them in and set them down before my spiritual director and said, "I need to make a decision."
I don't remember anything my spiritual director told me that afternoon, but I do remember that he told me he couldn't make the decision for me. "Strike two!" I thought. The winds of fate didn't decide for me, my spiritual director wouldn't decide for me, so I guess…I had to make the decision for myself. Though I don't remember anything he said to me – no enigmatic gospel phrase or teaching of Jesus – I do remember walking away convinced of a number of things. The first is: that God desires my happiness even more than I myself could ever desire it. The second? God's will is what will ultimately fill my heart's deepest desires. The third: Regardless of whether I was called to be a priest or get married, God must be the number one priority in my life, no matter what. Fourth: Doing God's will was the best thing I could do, not only for myself, but for those that I love: my friends, my family, the girl…
So in a paradoxical way, all of the things that I loved motivated me to give them up – to put God and his will as the number one, over-riding priority in my life. It was through his will that I could best love others, even if it meant detaching myself from them all. And even though I sought some kind of sign, or wanted someone else to make the decision for me, I learned that God wants me to be free to choose Him, and those things would have constrained me, not allowing me to choose him freely in love. Plus, even if I was given a sign, I might interpret it incorrectly. Thank God I wasn't given any signs!
A Hundred Times More (Mk 10:30)
And so, I reasoned that one summer wasn't all that much to "offer up" to God. Since I wanted to objectively put him in the first place in my life, the candidacy program was a concrete way to do that. It was a hard, beautiful, difficult, and amazing summer which – quite literally – changed my life. The lifestyle change wasn't easy, but nothing worthwhile is ever easy. In fact, the next couple years were marked by difficulties and doubts, but the foundation of my spiritual life – God's love for me and his desire for my happiness – kept me above water even when I felt like I was drowning.
Not only have I survived as a religious and priest of the Legionaries of Christ, but as each year passes, life just keeps getting better! I never would have thought that I could actually look forward to the hour of prayer that we have every morning before Mass, but I do! I wouldn't trade those moments of intimacy with God in prayer for anything. To have such a relationship with God is the one great happiness of the priest. And community life is great. To live alongside other amazing, talented, and holy men who are also seeking to give their lives to Christ for the building-up of His kingdom is a constant source of inspiration for me. I guess you could say that Christ's words came true in my life:
"Amen, I say to you, there is no one who has given up house or brothers or sisters or mother or father or children or lands for my sake and for the sake of the gospel who will not receive a hundred times more now in this present age: houses and brothers and sisters and mothers and children and lands, with persecutions, and eternal life in the age to come." (Mark 10:29-30
###
Father Nathan Torrey, LC was born in Slidell, Louisiana on September 7th, 1984. He became a Regnum Christi member on November 9th, 2003 while studying at the university of Louisiana. In 2004 he entered the Novitiate in Cheshire, Connecticut and made his first profession in 2006, after which he studied one year of humanities. In 2007 he went to Rome and completed a bachelor's degree in philosophy in 2009. After philosophy, he worked with ECYD and vocational promotion for three years in Philadelphia, USA. He made his perpetual profession of vows in 2012 and returned to Rome to study a masters in philosophy. After completing his master's degree, he worked for one year as assistant to the humanists in Monterrey, Mexico and returned to Rome in 2015 and completed his bachelor's degree in theology in 2018. He is currently an assistant to the novices in Cheshire, Connecticut.